Keyframes Panel
From Synfig Studio :: Documentation
m

m (Text replace - "{{Category|NewTerminology}}" to "{{NewTerminology}}")

Line 2:
Line 2:
 

{{Title|Keyframes Panel}}

 

{{Title|Keyframes Panel}}

 

{{Category|Panels}}

 

{{Category|Panels}}

−

{{Category|NewTerminology}}

+

{{NewTerminology}}

 

<!-- Page info end -->

 

<!-- Page info end -->

 

{{l|Image:keyframe_icon.png|64px}}

 

{{l|Image:keyframe_icon.png|64px}}
---
Revision as of 09:55, 20 May 2013

The "Keyframes" panel is where you make new keyframes for the animation.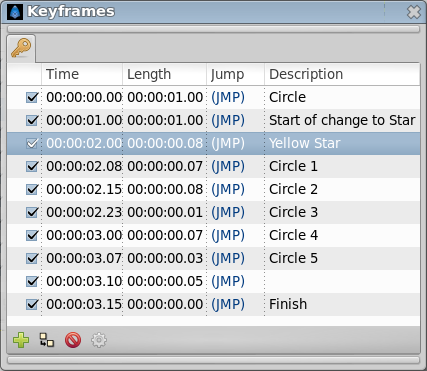 These will show up in the Timetrack dialog. To jump to a specific keyframe, double click on the "(JMP)" column.
The Add keyframe button adds a new keyframe to the current frame - a frame where there is no keyframe set already.
Remove keyframe removes a keyframe.
The Duplicate keyframe button copies the keyframe to the current frame.
The Keyframe Properties button display the Keyframe Dialog of the selected keyframe.
Take a look to adding, duplicating and removing keyframes documentation page for more detailed informations.