Template:SketchToolOptions
From Synfig Studio :: Documentation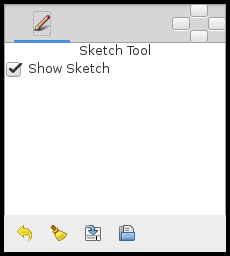 The Sketch Tool has the following in its Tool Options Panel :
Show Sketch: a checkbox for toggling the visibility of the sketch overlay On and Off.
Undo Last Stroke: cancels the most recent edit to the sketch overlay. Can be repeatedly clicked to cancel more edits.
Clear Sketch: clears the current workarea's sketch overlay.
Save Sketch As...: writes the sketch overlay from the current workarea to a .sketch file.
Open a Sketch: loads a previously saved .sketch file, overwriting any previously drawn or opened sketch in the current workarea.
Sketch uses the color of the default "foreground color" in the Toolbox.