Sets Panel
From Synfig Studio :: Documentation

images outdated!
Introduction
Supposons que vous souhaitiez traiter de la même façon plusieurs formes, mais qu'elles soient dispersées dans votre projet et placées sur des calques différents. Plutôt que de développer chaque Groupe de couches et de les sélectionner individuellement à chaque fois que vous souhaitez les modifier, vous pouvez utiliser des ensembles.
Pour ajouter des couches à un jeu, sélectionnez-les dans le Panneau de couches, cliquez avec le bouton droit de la souris et choisissez " Ajouter au jeu". Il vous demandera un nom d'ensemble. Saisissez un nom pour un nouvel ensemble ou un ensemble existant, puis cliquez sur " OK".
Vous pouvez maintenant sélectionner ce jeu et animer tous ces calques ensemble (par exemple, modifiez tous leurs montants, ou déplacez leur origines).
Digging deeper
Action over Sets
Current interaction with sets and its layers in Sets Panel can be described in following terms:
Double click over a Set icon selects all its layers in the Layers Panel. It allows a multiple selection of scattered layers with just one double click. Notice that double click does not highlight the layers in the Sets Panel.
Double click over a icon of a layer from a set, selects that layer on the Layers Panel and unselects all others.
Double click holding Ctrl key over a Set icon or layer icon from a set, adds the selection to the current one at the Layers Panel.
Double click over a set or layer name allows to rename it.
Clicking the checkbox on the left of layer icon will deactivate the layer in the Layers Panel.
Clicking the checkbox near the set icon will deactivate all layers inside of this set.
A layer in a set can be moved to any other set (empty or not).
If the set is empty it can't be activated and won't be saved.
Single left or right click over a Set makes it selected. You can use it to enable the "Remove Set" button.
Single left click over layer in a set selects it. You can select multiple layers if you click holding Ctrl or ⇧ Shift key, but the effect on subsequent commands only affect the layer that you right-click on.
Action over Layers
Single right click over a layer in a set pops up the context menu with the same elements as you have for each layer in the Layers Panel:
Notice, that a layer can only belong to one Set at a time. Adding a layer to a Set when it's already in previous set will remove it from the previous set.
Sets can be nested
You can make nested sets one of the following ways:
by adding a layer to a set with a name containing dot as separator: "parent.child"
by dragging a set inside other set.
The contents of the nested sets is selected when you double-click the parent set icon. Depending on what set level you click you can select more or less layers.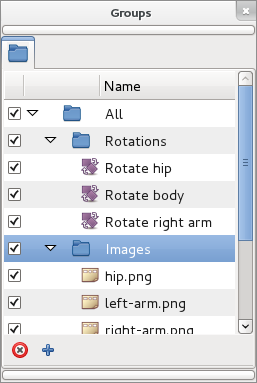 For example making a double click on the 'All' Set will select Rotation and Image layers in once double click.
Regarding to the buttons:
"Add New Set" button adds empty deactivated set.
"Remove Set" button removes selected set. If the set contains other sets they are not recursively deleted, only the first child level of layers.

Also Sets scope is the current edited Canvas. That means that only the layers in a set that belong to the current Canvas being edited are show in the Sets Panel. It also means that Sets are File/Canvas dependent. It means that a layer can only belong to a set defined in its exported canvas scope. For example, if there are two canvases where B is the root one and A is a exported one hold by a Group Layer inside B, then a layer that belongs to exported canvas A can belong only to Sets defined at canvas A scope. Although you can select the layer from the outer root canvas (B) you cannot add it to a set defined at B scope. You can also have sets with the same name in different file/canvas scope. If a layer is dragged out from a pasted canvas and it belongs to a set, the set name is dragged out also.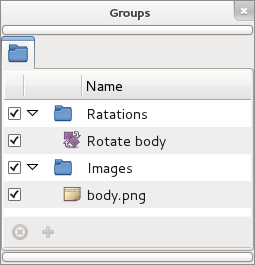 ---
Here are shown some examples of what can be done using sets for a complex file:
Samples
Sets
Effects after double click on the highlighted Set
Sample1

Sample2